With just about a week to go in the New Jersey gubernatorial election, it was all hands on deck for Governor Phil Murphy. Jill Biden, Barack Obama, Bernie Sanders, and even Brandon himself joined in to muster what energy they could charge up in the last push to keep the democrat in office. While some saw this as bringing in the big guns, many paying attention wondered why the need for a fire drill.
Let's face it; there are many issues in New Jersey, and many arguments could be made opposing the current governor. But in the current climate, the handling of COVID-19 is the leading issue. If you listen to Murphy, there are only a few knuckleheads that are opposed to his handling of the so called pandemic. NJ's governor has been pretty much in lockstep with the CDC guidelines, as their recommendations were the basis of his mandates by Executive Order.
This topic alone could swing voting in either direction, and it looks like it may be doing just that. It begs the question; why hasn't Jack Ciattarelli tied this around him and watched him sink? One guess is that the Ciattarelli campaign knows the Republican base is not going to vote for Phil. Therefore, by staying in the middle and just expressing that this should be a personal or parents' choice; he may gain a few unexpected votes. Some say it's because he's an establishment candidate lacking a spine. You can draw your own conclusions.
Either way, the politics in the race for governor, who's showing up to stump, and who brought their spine, doesn't offer any insight or answer any questions about the hot topic. We'd like to say that's shocking, but when you need information, it's rarely found in the answers of politicians. In order to get to what we see as the most recent revealing piece of information regarding Phil Murphy's handling of COVID-19, we must start when the door opened.
When president Trump leaned on his newly formed task force at the beginning of the pandemic, certain protocols were put in place. In tandem there was an effort to see if a vaccine could possibly be made in time to make a significant change to what looked to be devastating numbers based on the early models. The first protocol Tony Fauci led with was a Gilead rebranded anti-viral drug Rendesivir(Veklury) to be used to treat COVID-19 as it was the only antiviral drug approved.
BIOPHARMADIVE -10/16/2020
"Veklury, originally developed by Gilead for use in hepatitis C and then Ebola virus infections, is the only antiviral drug authorized in the U.S. to treat COVID-19.
While the benefit shown in the NIH's key study was modest, Veklury has become standard treatment for patients hospitalized with COVID-19 before they get so sick as to require intensive care. Tens of thousands of U.S. patients have received the drug, including President Donald Trump, whose physicians included Veklury in an aggressive course of several experimental medicines."
The masks where a completely different debacle and for the purposes of not getting stuck on his hypocrisy, we'll just say Fauci's rhetoric worked and had a lasting effect in the end. But what wasn't working was his recommended treatment. Plus, by this time Hydroxychloroquine was showing positive results as both a treatment and prophylactic.
Without getting too technical, doctors explained that it didn't cure COVID, but it would disrupt the cells and stop or slow the spread giving the immune system a chance to fight back. Other drugs were prescribed to help with the body's response, hence why the cocktail of Hydroxychloroquine, Zinc, and a Zpack were often prescribed together.
Indian Journal of Applied Research – May 2020
Antiviral Effect: Hydroxychloroquine reduces interleukins, inhibits glycosylation of viral particles, inhibits replication of certain viruses and inhibits enzymes like quinonereductase required for biosynthesis of viral glycoprotein precursors like Sialic acid [25, 26]. Several In-vitro and clinical studies have proved efcacy of Hydroxychloroquine on viruses like HIV, Inuenza, SARS-CoV and members of Orthomyxoviridae.
In comes operation Warp Speed. This was an effort to get production started and produce vaccines with an almost impossible timeline. However, nothing is impossible when you have a president that doesn't like to lose, a sick bunch of money hungry doctors that needed to cover their ass, and that wanted to experiment with some new technology. The combination couldn't have been more dangerous and more effective, even if you had people doing it for the right reasons.
When the vaccines were just about done baking, Fauci had to get rid of his now 50/50 survival Rendesivir(Veklury) appetizers. They had done their job by changing the hospital protocols which reduced care by not treating the symptoms with standard methods. They had to go, and so did that pesky Hydroxychloroquine. What better than to lump them in with a study showing that they just missed the mark.
Repurposed antiviral drugs for COVID-19–interim WHO SOLIDARITY trial results – 10/15/2020
CONCLUSIONS These Remdesivir, Hydroxychloroquine, Lopinavir and Interferon regimens appeared to have little or no effect on hospitalized COVID-19, as indicated by overall mortality, initiation of ventilation and duration of hospital stay. The mortality findings contain most of the randomized evidence on Remdesivir and Interferon, and are consistent with meta-analyses of mortality in all major trials. (Funding: WHO. Registration: ISRCTN83971151, NCT04315948)
Brilliant! The weight is lifted, Trump defied the odds, and the Cabal kept the coup on course. By now mask mandates were fashionable and if you were a responsible person that valued life, you needed to perform your patriotic duty and get the shot. Plus, before people in NJ even had a chance to digest the thought of sending their kids back to school with masks, everyone needed boosters. This was all just after Phil told everyone that the kids wouldn't need masks to return to in-person learning.
However, Murphy had an ace up his sleeve; a deal he made with the New Jersey legislature . He would lift the "Health Emergency" if they wrote his unconstitutional mandates in to law for a while.
All executive orders issued by the Governor prior to the effective date of this act,
P.L.2021, c.103 (C.26:13-32 et seq.), that relied on the existence of the public health
emergency declared by the Governor in Executive Order No. 103 of 2020, as extended, shall
expire 30 days following the effective date of this act, with the exception of the executive
orders listed in this section that shall remain in effect until January 1, 2022. The Governor
shall have the ability to revoke or modify the executive orders listed in this section prior to
January 1, 2022.
(1) Executive Order No. 106 (2020)
(2) Executive Order No. 111 (2020)
(3) Executive Order No. 112 (2020)
(4) Executive Order No. 123 (2020)
(5) Executive Order No. 127 (2020)
(6) Executive Order No. 150 (2020)
(7) Executive Order No. 159 (2020)
(8) Executive Order No. 170 (2020)
(9) Executive Order No. 178 (2020)
(10) Executive Order No. 207 (2020)
(11) Executive Order No. 229 (2021)
(12) Executive Order No. 233 (2021)
(13) Executive Order No. 237 (2021)
(14) The most recent executive order containing general coronavirus disease 2019
(COVID-19) mitigation measures regarding face coverings, social distancing, and gatherings
prior to the effective date of this act, and this executive order shall not be more restrictive
than the recommendations provided in the federal Centers for Disease Control and
Prevention guidelines on social distancing and face coverings in response to the coronavirus
disease 2019 (COVID-19) pandemic, unless a substantial increase in hospitalizations,
substantially increased spot positivity, or rate of transmission above 1 necessitates a
modification that would be more restrictive.
Funny enough, they expire on January 11, 2022 unless he sends a letter to renew by January 1, 2022. But Phil had what he needed. The mandates were in place, teenagers were approved to get vaccinated, and with any luck 5 to 11 year old approval was just around the corner. Plus, he got to watch as parents' posted videos of 2 year old children struggling and crying in an effort to get themselves free from the idiots abusing them for their safety.
Phil Murphy watched as California's Gavin Newsom was recalled, re-elected, and still implemented COVID-19 mandates. He watched Warren Wilhelm Jr. threaten New York city to the take the vaccine or else. He watched Biden tell the world he got more votes than any presidential candidate in history –and that he wouldn't take the Trump shot, but is mandating his own, now that he worked so hard to get them ready and available. Governor Murphy was not going to let the biggest coordinated sham the world has ever seen get exposed on his watch. Especially not after all of his teammates came to rally around him.
Well after studies showed the negative effects on masking children and that the vaccinated could contract, transmit, and even die from COVID-19, Phil wasn't about to let things like facts and Ivermectin get in his way. Phil didn't care if Joe Rogan was up and running in 3 days. Joy-Ann Reid told him it was horse paste, and that was good enough. Murphy was on a mission to save New Jersey, and all was going pretty well until Project Veritas dropped a video that erupted like a stick of dynamite in his septic tank.
Wendy Martinez (Senior Adviser for Murphy) broke the biggest story that New Jersey isn't even talking about. The entire reason we needed to start from the beginning. The reason why the numbers are inflated, doctors are silenced, and treatments are hidden is because get vaccinated, and did you get your 4th booster. Fauci's medicine, protocols, masks, gain of function resea.. eek sorry, the other stuff and vaccines, and Joe Biden's mandates were all in an effort to SAVE EVERYONE!
The time has come for Phil. The FDA has approved the vaccines for 5 to 11 year old children. The pandemic can finally come to an end. Phil Murphy, governor of New Jersey, in the last days of his administration has a chance to save the children! However, because of science and the fact that we are a densely populated state, and because we're just not there yet…
Phil needs to win the election first.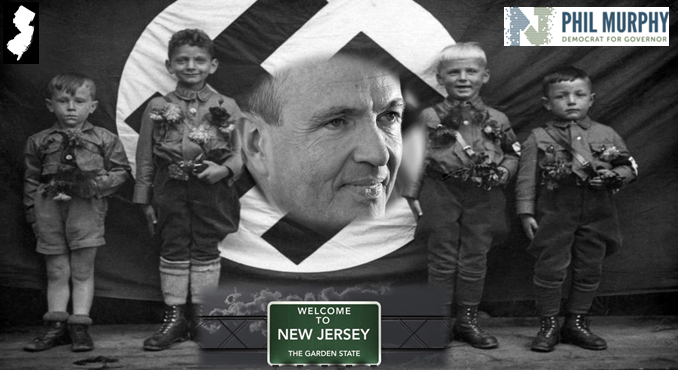 Thanks for reading.
Click to watch the videos below.
Link to Project Veritas video showing Wendy Martinez talking about how Governor Phil Murphy will introduce the vaccine mandates after the election. Project Veritas Reveals NJ Gov Murphy Will Impose Vaccine Mandates AFTER Re-Election (rumble.com)
Link to Rumble video where Joe Rogan calls out media lies – Montage: Media Mock Joe Rogan for Claim They Made Up About Taking Horse De-Wormer..!! (rumble.com)
Cited: 103_.PDF (state.nj.us) Executive Order
Cited: Indian Journal of Applied Research – May 2020 – magnitude-of-hydroxychloroquine-a-mini-review_May_2020_1588599664_0514221.pdf (worldwidejournals.com)
Cited: BIOPHARMADIVE -10/16/2020 – Gilead's COVID-19 drug doesn't prevent deaths, large WHO study finds | BioPharma Dive
Cited: Repurposed antiviral drugs for COVID-19–interim WHO SOLIDARITY trial results came out 10/15/2020 – 46718889 (medrxiv.org)